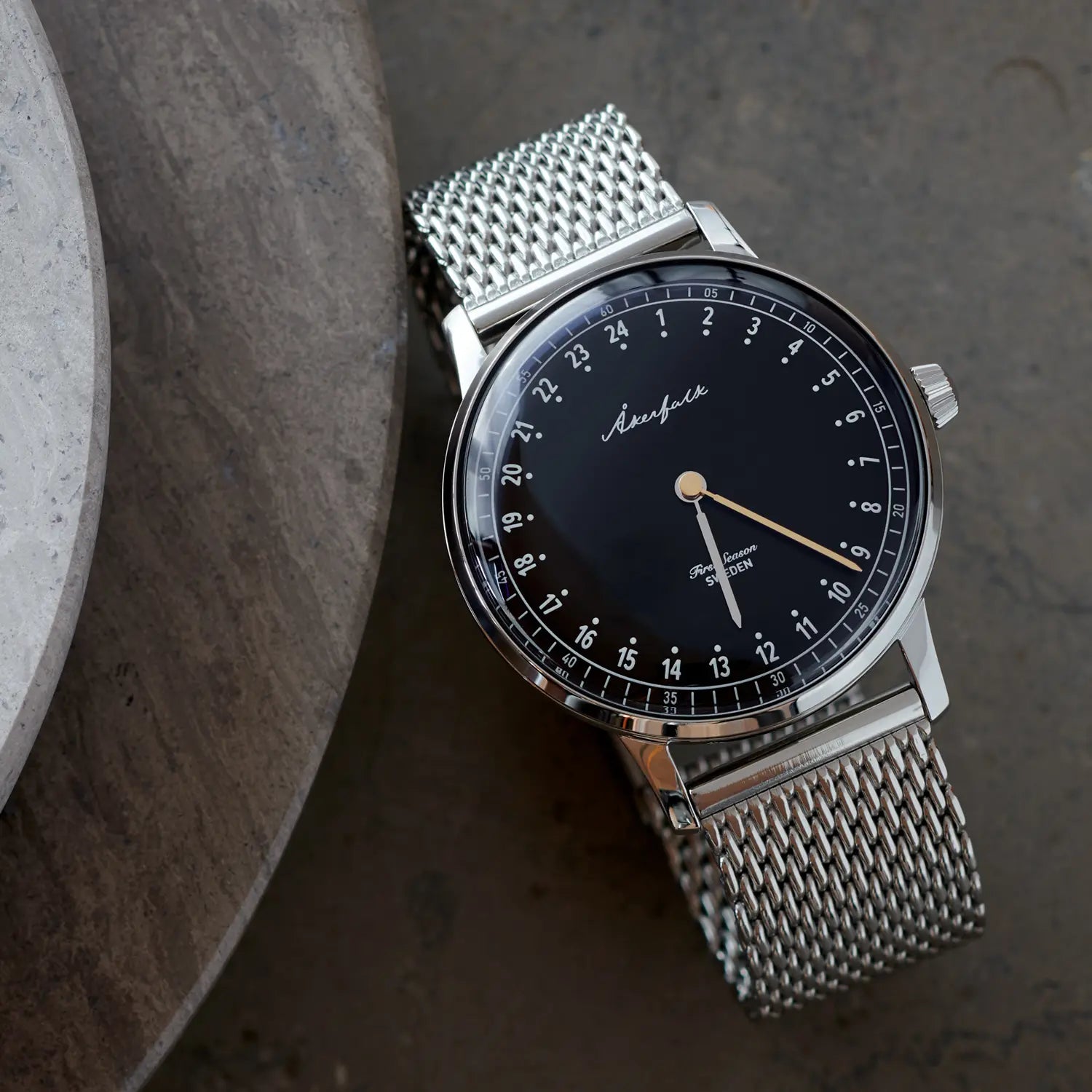 24-hour watch
While it's uncommon to come across a 24-hour watch in everyday life, it's precisely this rarity that sets it apart. For the adventurous souls who dare to be different, our watches offer a unique and distinctive touch, celebrating individuality. Embrace the unconventional perspective of time and life with our exceptional timepieces.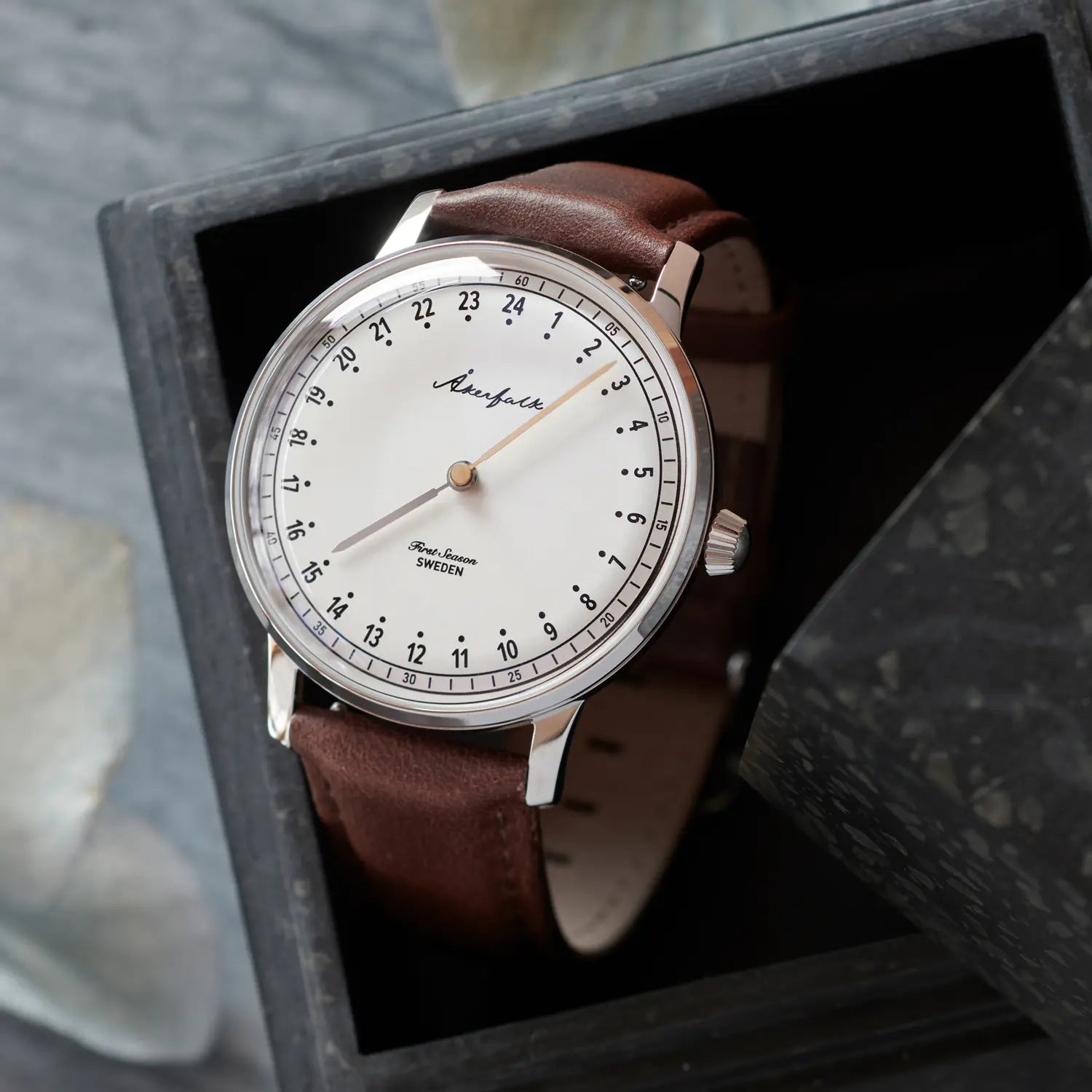 Unique watch
Remarkable wristwatches and captivating design. Just like the vintage watches cherished by our grandparents, our First Season model captures the essence of the classic 1960s era. With its distinctive 24-hour movement and dial, this watch effortlessly stands out from the crowd.
Embracing the blend of past and present, the watch is safeguarded by a domed K1 crystal, adding a touch of uniqueness and timelessness. We are confident that the First Season watch will continue to captivate for years to come, remaining attractive even 15 years from now. Experience the everlasting charm of our First Season watch and immerse yourself in a journey through time.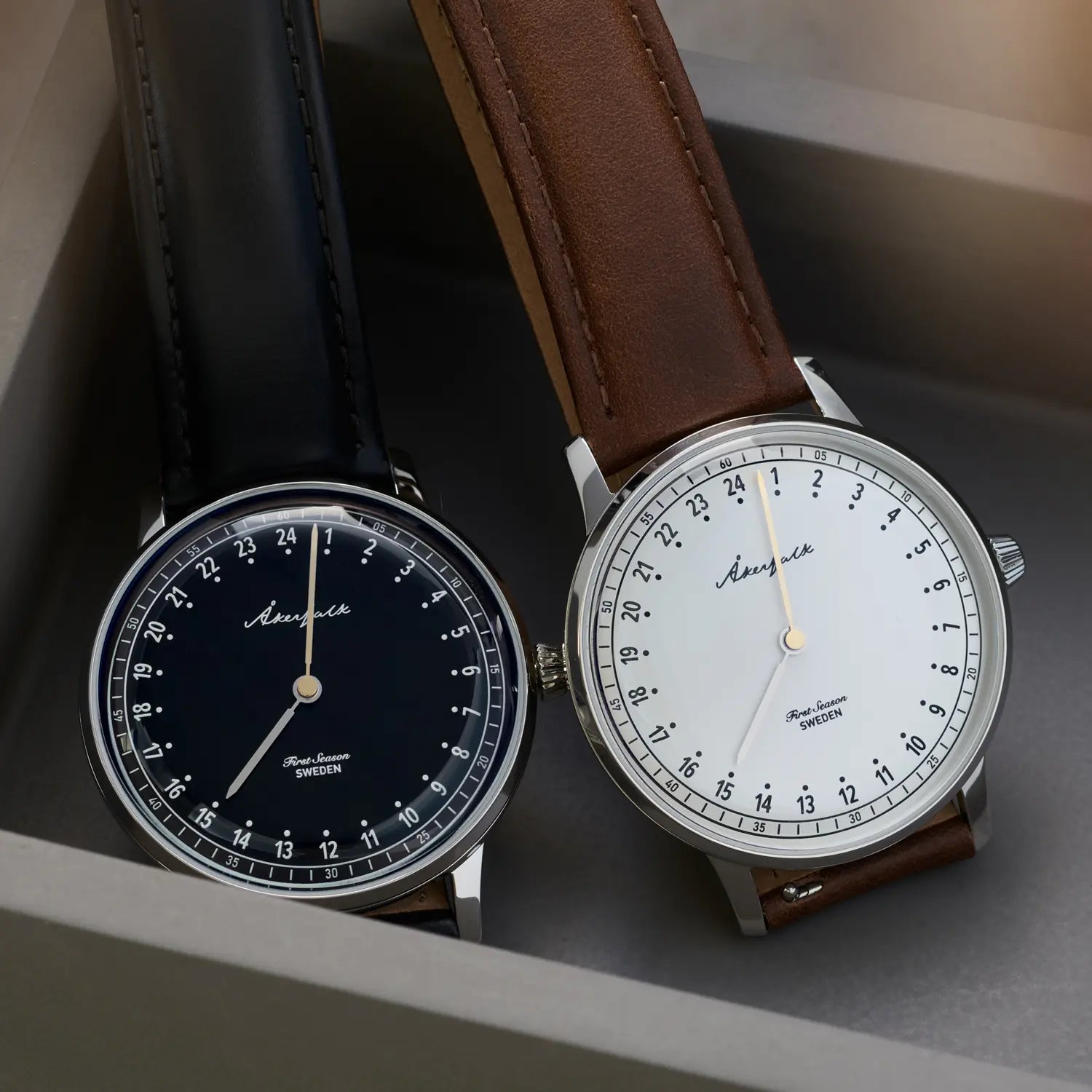 The "wow" factor
Our goal was to create a dial layout that embodies simplicity while featuring all 24 hours. Although the initial samples looked impressive on paper, we felt that they lacked that "WOW" factor. Months of tireless effort, numerous sketches, and countless prototypes led us to discover the precise DNA of Akerfalk Watches.
Drawing inspiration from classic Swedish design and iconic brands like Fjällräven, Svenskt Tenn, and Volvo Automobiles, we strive to infuse the overwhelming majesty of Sweden's natural beauty into every creation we craft. Experience the essence of Akerfalk Watches and indulge in the extraordinary beauty that resonates with the soul.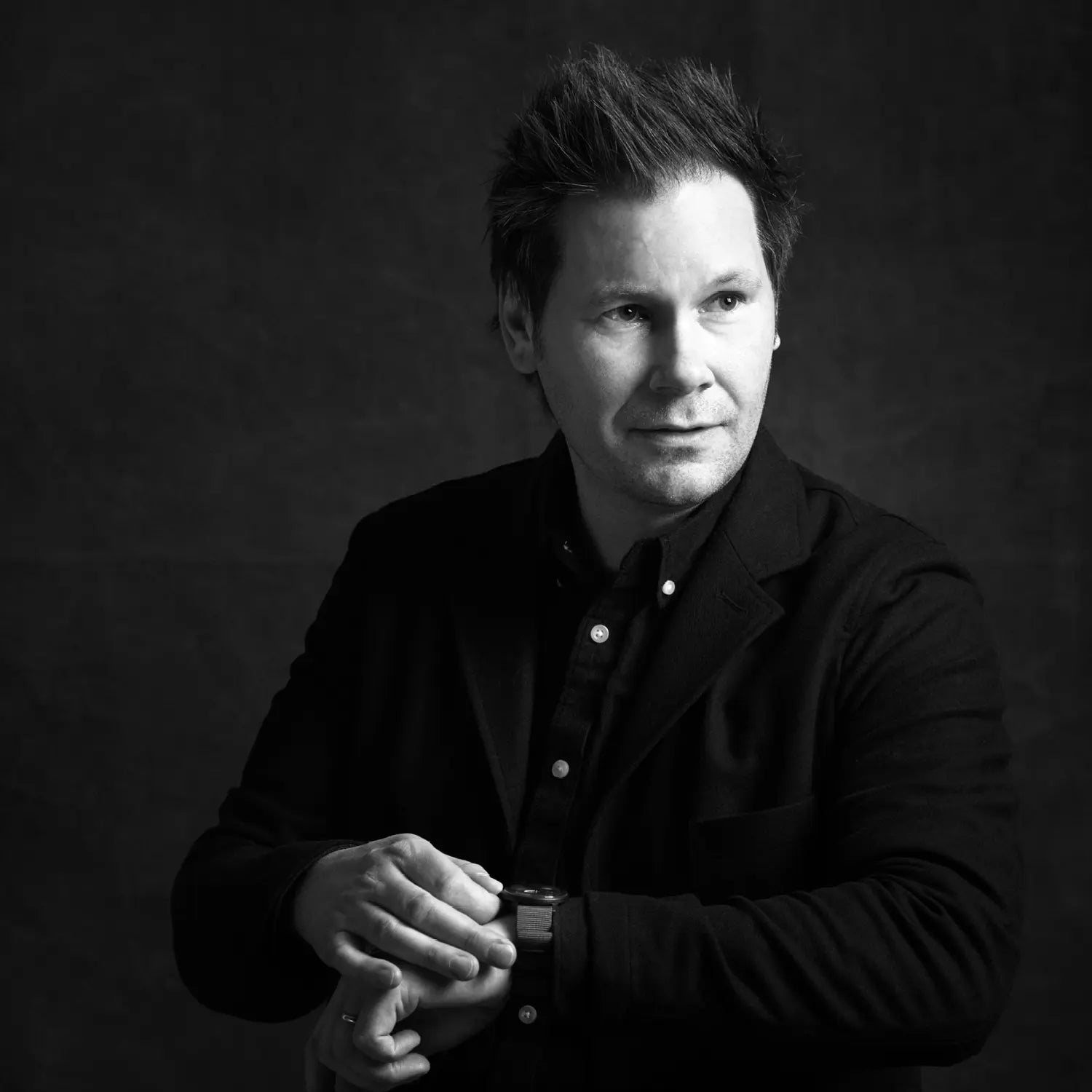 Mikael Söderberg
CEO / Buying
I am delighted to share a little glimpse into my journey and how it led me to the incredible world of Akerfalk watches. My name is Mikael, and before joining Akerfalk, I had the privilege of working in the dynamic fashion industry for over 15 years. Throughout my career, I immersed myself in product development and buying processes, gaining valuable experience in Europe and the Far East. These experiences fueled my passion for quality craftsmanship and unique design.

Seven years ago, I embarked on a new chapter as a self-employed entrepreneur, seeking to create something truly special and meaningful. It was during this time that I discovered my true calling: the world of watches. The artistry, precision, and timeless appeal of watches captured my heart and imagination.

When the opportunity arose to become a part of Akerfalk watches, I knew it was a chance to channel my passion and expertise into something extraordinary. Akerfalk is not just a watch brand; it is a testament to the power of craftsmanship, inspired by the rich heritage of Swedish design and the breathtaking beauty of our surroundings. Each timepiece we create is a reflection of our unwavering commitment to quality, authenticity, and innovation.

Join us on this remarkable journey as we blend timeless elegance with modern sophistication. Let us inspire you to seize every moment, to appreciate the artistry and dedication that goes into each Akerfalk watch. Together, let's celebrate the beauty of craftsmanship and embrace the stories that unfold on our wrists.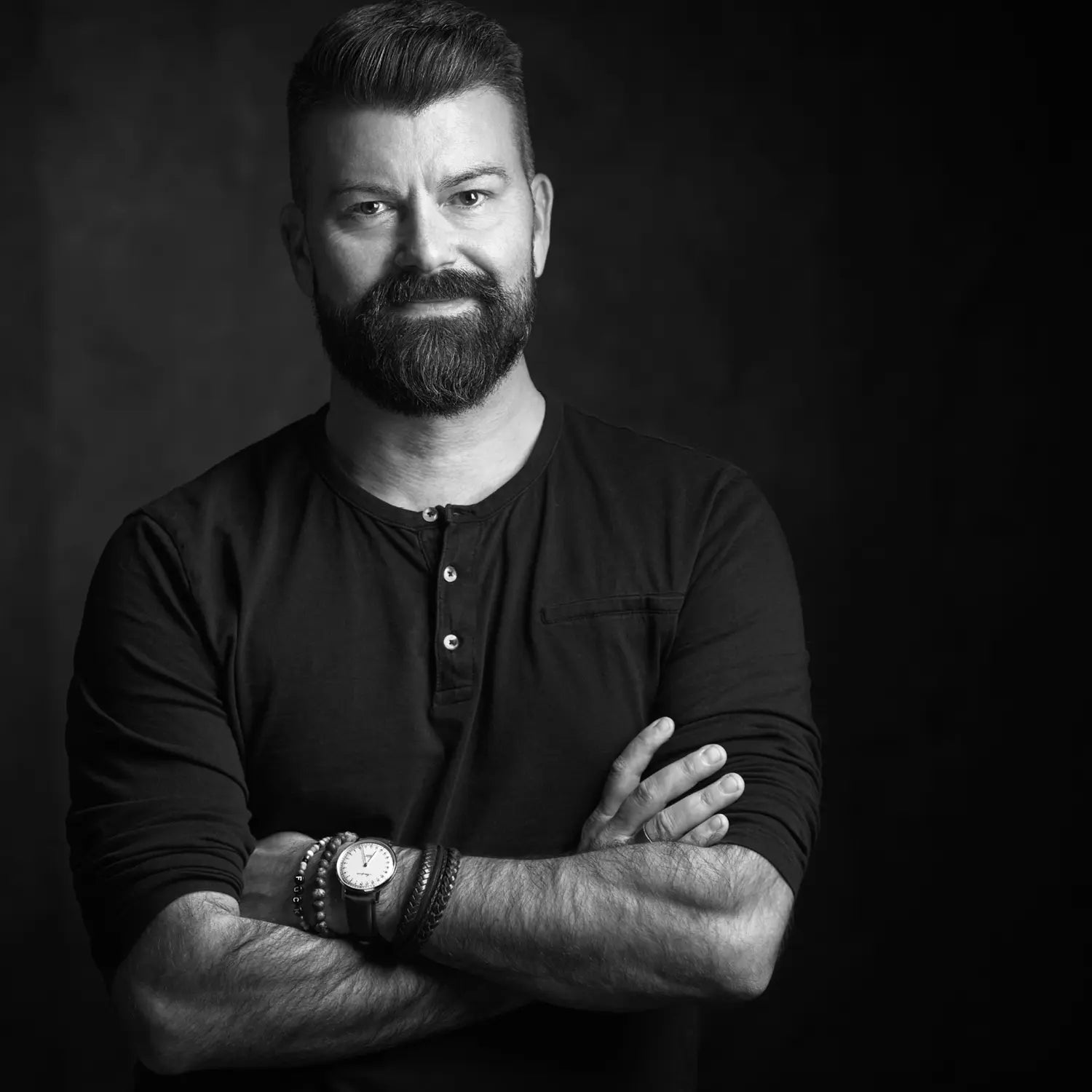 Joakim Lidbäck
Design
For the past decade, I have had the privilege of running my own marketing and design agency. Throughout my career, I have been deeply involved in the creative process, shaping the vision and identity of various brands.

My passion for watches has always burned brightly within me. The intricate craftsmanship, the artful blend of form and function, and the ability of a timepiece to convey a story have always fascinated me. When the opportunity arose to join Akerfalk watches, I knew it was the perfect platform to channel my love for design and my extensive knowledge of the watch industry.

At Akerfalk, I play a vital role in the design process of every timepiece we create. It is a deeply fulfilling and rewarding experience to pour my creativity into each design, carefully considering every detail and striving for perfection. I draw inspiration from the rich heritage of Swedish design, the allure of nature, and the desires of our discerning customers.

My goal is to craft timepieces that not only keep time but also evoke emotions and inspire the wearer. I believe that a watch should be more than just a functional accessory; it should be a reflection of one's personality, style, and aspirations. With each Akerfalk timepiece, I aim to capture the essence of timeless beauty and infuse it with a touch of contemporary elegance.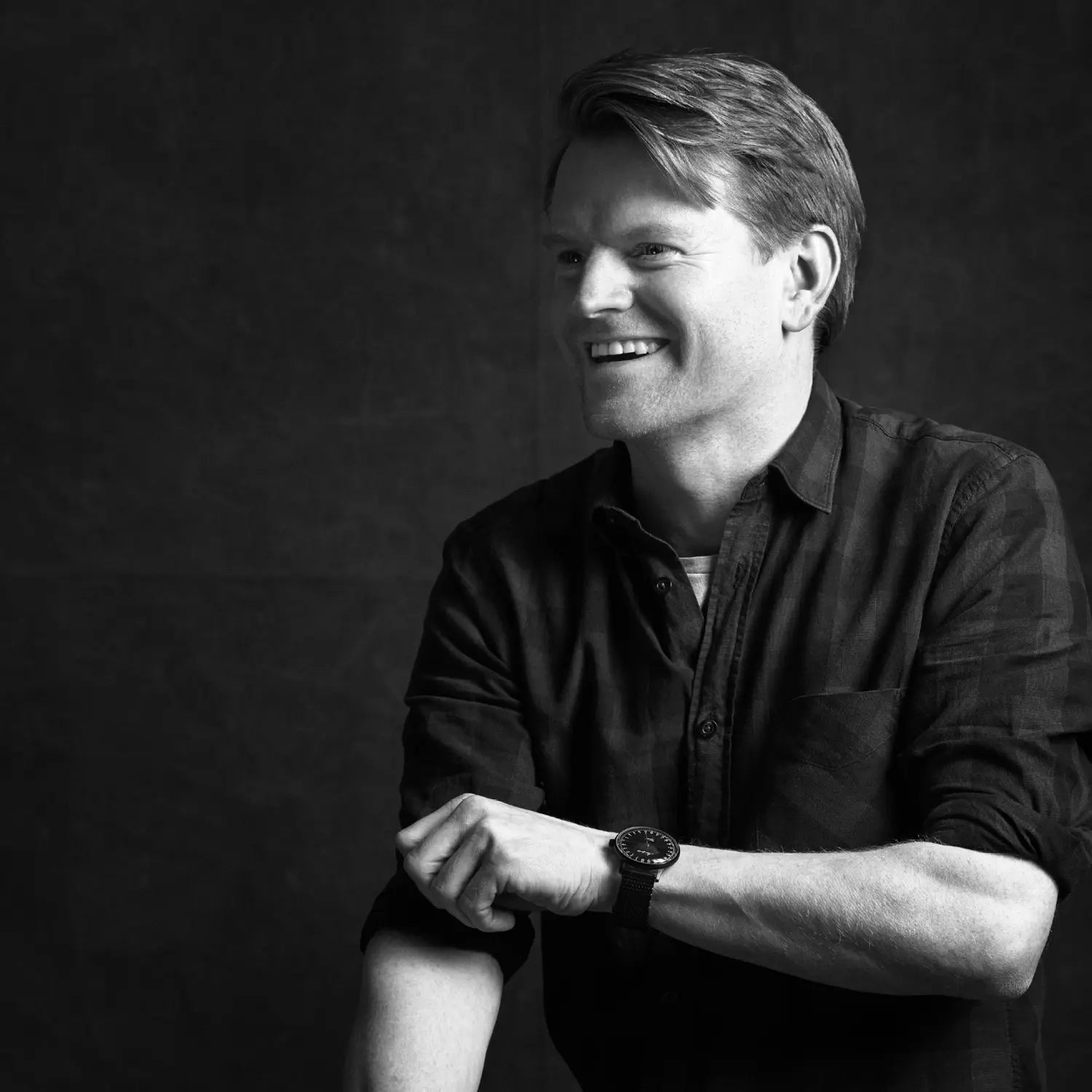 Anders Lipkin
Creative Content Manager
My name is Anders, and for over two decades, I've been running my own advertising photography studio. It has been an incredible adventure, collaborating with clients from various industries and capturing stunning visuals that bring stories to life.

When the opportunity arose to be part of Akerfalk watches, I knew it was a chance to merge my passion for photography with the captivating world of timepieces. As the photographer, I play a vital role in shaping the visual concept and bringing it to fruition through hands-on content production.

Each Akerfalk watch is a masterpiece that embodies the art of precision and craftsmanship. My aim is to showcase these exquisite timepieces in a way that captivates and inspires. From the intricate details of the dial to the interplay of light and shadows, I strive to capture the essence of each watch and convey its unique character.

The process of photographing these timepieces is a true labor of love. It involves careful attention to every detail, meticulous composition, and an unwavering dedication to showcasing the beauty of each watch. I believe that through photography, we can evoke emotions, tell stories, and create a connection between the viewer and the timepiece.
Mission
To design, manufacture and distribute high quality and unique 24-hour timepieces. The perfect timepiece for those who view time - and life - just a little bit different.